Itinerary
 Here is the detailed itinerary of our fabulous tour.
Day 1 – October 7, 2019, Monday
Depart Sydney : We board our Malaysian Airlines flight to Delhi, stopping over at Kuala Lumpur. It is a night flight so you can rest aboard and arrive refreshed.
Day 2 – October 8, 2019, Tuesday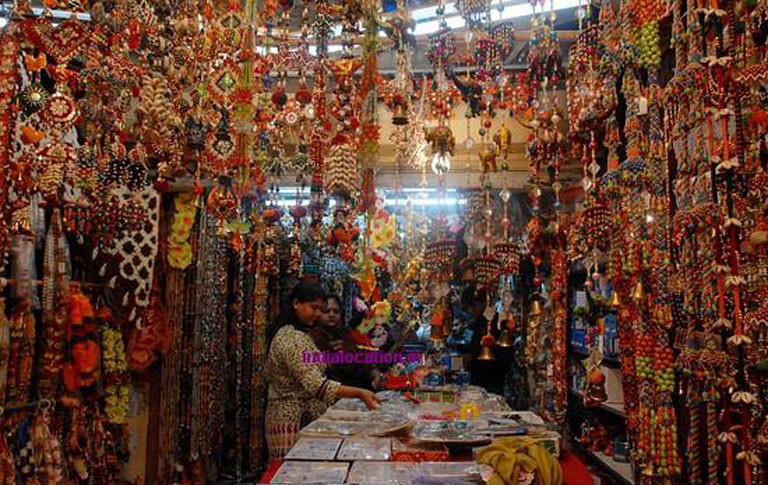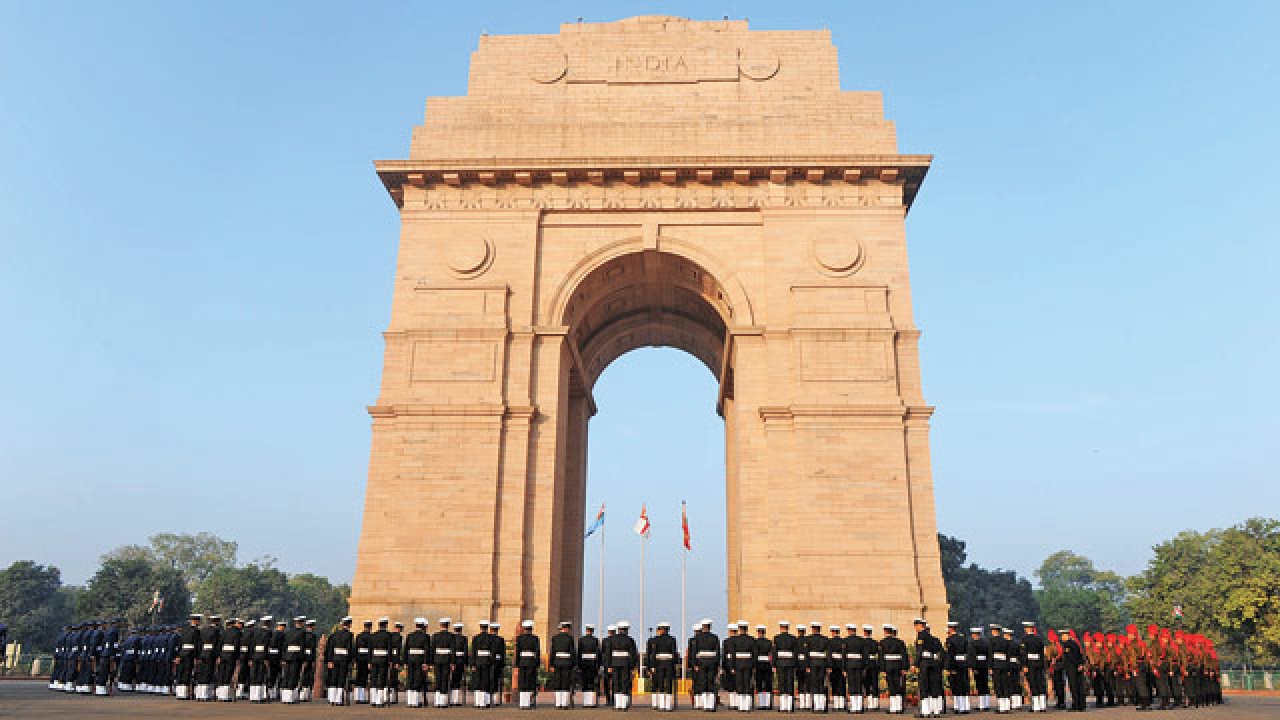 Arrive at noon in New Delhi.  We will transfer to an air-conditioned transport which will take us to our  hotel. We will all be needing a shower and a rest after our long flight from Australia.  After lunch we will have an overview of the program.  This is a time to introduce yourself to the group and make new friends, meet our host Deepa, who is a treasure trove of local knowledge.  She has hand-picked our accommodation and workshops!
We will visit Dilli Haat,  a permanent craft market in South Delhi.  Established purely for artisans to sell their handicrafts, you can buy gems, rosewood, Sandalwood, camel leather artifacts, jewelry, beads, drapery, silks, textiles and a large range of handicrafts in this special market.  There will be plenty of time to explore and shop at this market. Dinner and then onto our hotel for a good night's rest following our first exciting day in India.
Day 3 – October 9, 2019, Wednesday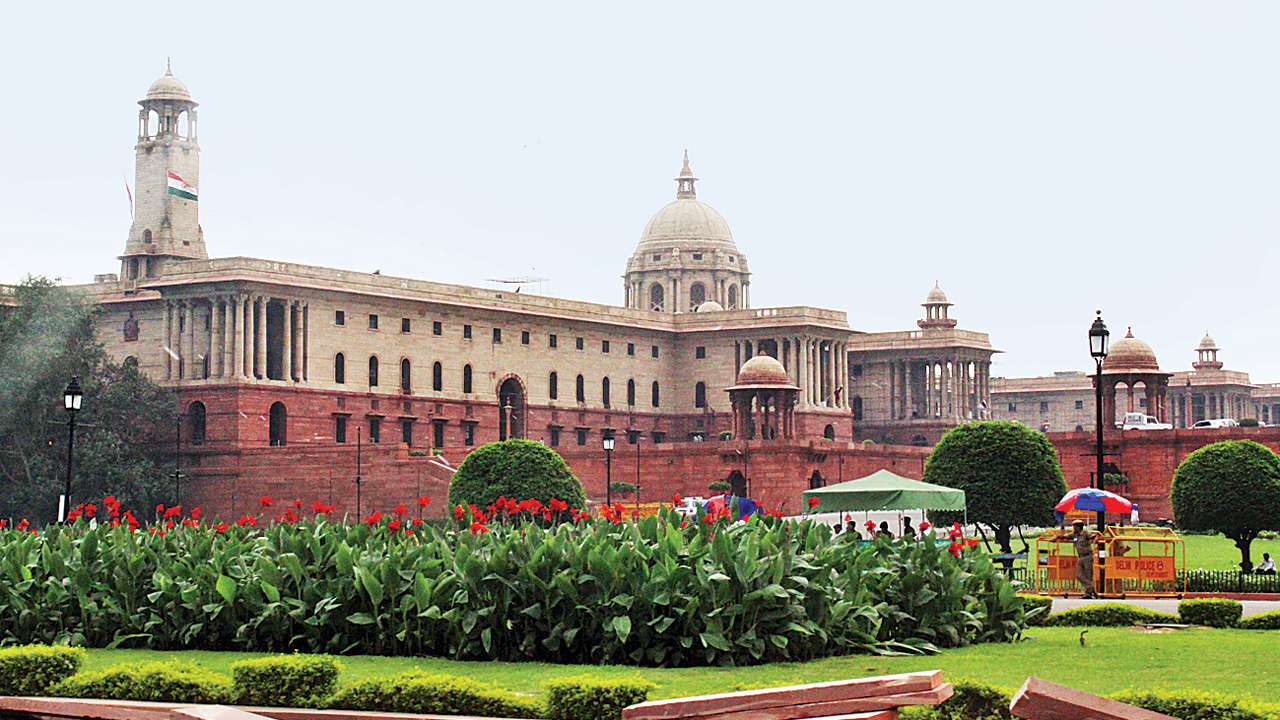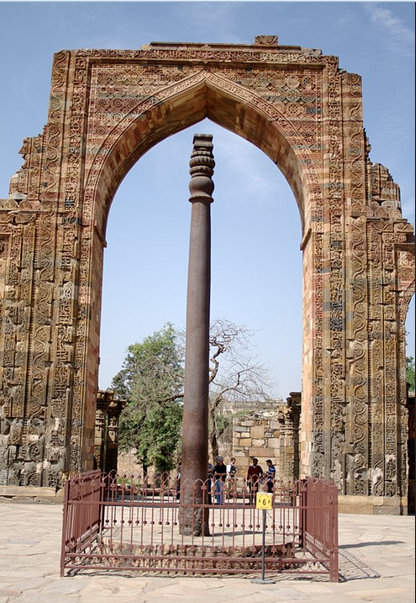 Following a delicious breakfast in the hotel, we will visit the colourful market of Chandni Chowk either on foot or by a tri-cycle rickshaw.  It is the oldest and busiest market in Old Delhi. You can find everything from spices, dried fruit, clothing to silver and gold jewelry.  The market was established in 1650 by the Mughal Emperor's daughter and used to have canals to reflect the moonlight (Chand in Hindi is moon, so moonlit crossroads) and was a grand old market with the Red Fort in the middle. of the area.  Today its narrow streets are best visited by cycle rickshaw, and enroute you can see the Red Fort, Jama Masjid, the Gauri Shankar temple, a Jain Temple, Church and a Gurudwara, multiple religious houses of worship all within easy reach of each other. The tiny stores on both sides of the lanes sell almost everything and the sights and colours will leave you breathless!  Our special interest will be the street that stocks lace, buttons and other accessories.
We will visit the historic sites in Delhi.  We will visit Humayun's Tomb which inspired the Taj Mahal; it is also a world heritage site, it is one of the most beautiful buildings in Delhi and the complex encompasses large gardens with other important mausoleums and tombs of senior members and nobility of the Mughal era.
We will then visit the Qutb Minar, a marvel of engineering found in the Qutb complex. The tower stands at 73.5m tall and construction began in 1192 with many stories being added to the minaret over the next few centuries.  It has survived several earthquakes and is another world heritage site. The Iron Pillar of Delhi, found in the complex is famous for is rust resistance and was built in the 4th or 5th century by the Gupta dynasty. Archaeologists have been fascinated by its resistance to corrosion, which is a testament to the skill of its builder over 1500 years ago!
We will visit the Gandhi memorial, the site where the Mahatma was assassinated and view the Indian  parliament and Rashtrapati Bhavan, the presidential palace, where the viceroy's of the British Raj used to reside, but is now the home of the President of India. We will then visit India Gate, a monument to the 85,000 Indian soldiers who died in World War I and the Afghan battles of 1919. In a design based on the Menin gate of Belgium, it is located at the end of the main street leading to the Presidential palace.
We will drive to Agra and check in to our hotel.  We recommend an early bedtime so we can make an early start for our sunrise visit to the Taj Mahal.
Day 4 – October 10, 2019, Thursday
Today we will rise early for our sunrise visit to what is perhaps the most famous monument of India, the magnificent TAJ MAHAL.  One of the seven wonders of the world, this amazing building will take your breath away, with its gleaming white marble,  semi-precious stones carved into its walls, and attention to detail that surpasses all expectations. Considered one of the most romantic buildings ever built, it is the tomb of Mumtaz Begum, the favourite wife of the emperor Shah Jahan.  It took over 10 years to build and had an estimated 20,000 artisans working on it as the emperor wanted it to be perfect.
We return to our hotel for breakfast, check out and then visit Agra fort, an architectural marvel in red sandstone and another world heritage site. Construction of this fort began in 1565 by the Emperor Akbar and it was the main residences of the Mughal emperors until 1638.  Shah Jahan, the grandson of emperor Akbar supervised the construction of the Taj Mahal from this very site.  Unfortunately, this was also the place where Shah Jahan was imprisoned by his son, emperor Aurangzeb, where he was offered the view of the famous monument he built for his beloved wife.
Then onto Fatehpur Sikhri, the city of victory and the capital of the Mughal Dynasty between 1571 and 1610.  Originally built by a Rajput king, the villages were built on by Akbar and several buildings were added during his reign and it eventually became a walled city.  This majestic world heritage site showcases both Hindu and Muslim architecture of the time and its buildings are constructed from the pinkish red sandstone that is found locally. There is so much history within the walls of this city and its founder, Akbar was said to be interested in many religions. He invited scholars from all over the world to his court and had several wives for whom he built residences within the city. Each palace had religious symbolism for their mistress, a Hindu palace for is Hindu wife, a Muslim palace for his Muslim wife and a Christian palace for his Christian wife!
Overnight stay in Agra
Day 5 – October 11, 2019, Friday
Following breakfast at the hotel, we will checkout to begin our journey to Jaipur (5hrs by road).   We will continue our journey to Jaipur and check into our hotel.  After our lunch we will visit the colourful markets in the walled city and have some quality shopping time.  Enjoy some traditional Rajasthani cuisine tonight and then back to our hotel for a rest.
Day 6 – October 12, 2019, Saturday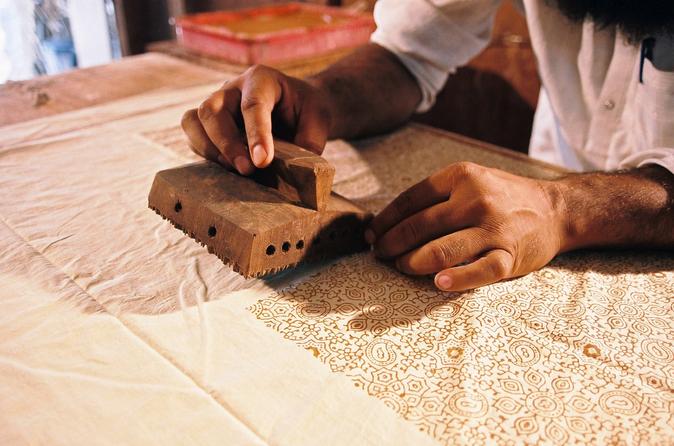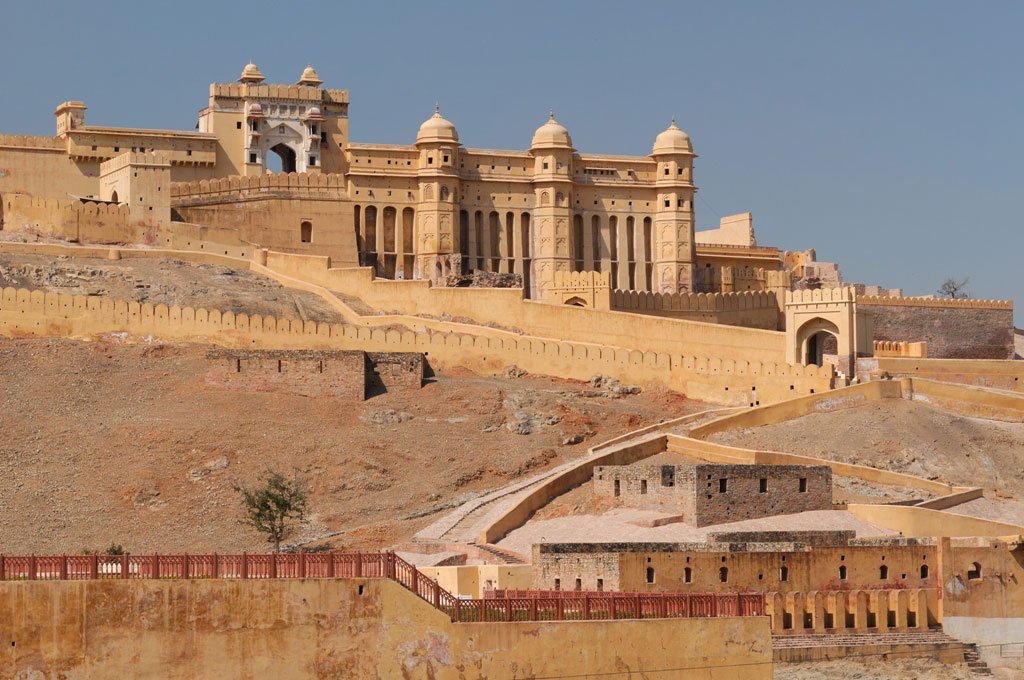 After a hearty breakfast this morning, we will begin our sight-seeing tour of the pink city of Jaipur. We will visit the famous Anokhi Museum of Hand Printing (AMHP). Located in a magnificently restored haveli or mansion, the museum displays a varied selection of block printed textiles alongside images, tools and related objects – all chosen to provide an in-depth look into the complexity of this ancient tradition.
We will then visit the Amer (Amber) Fort, one of the most popular tourist destinations in Jaipur which sits high on a hill overlooking a beautiful lake.  Once inside the fort, the Hindu architecture is resplendent and there are many artifacts of the famous Rajput kings to view.  The fort began construction in the 10th century and the current king still carries out ceremonies and rituals here. We will visit the Hall of public audience, Hall of private audience and the famous Sheesha Mahal (mirror palace).  Later in the day we will visit City Palace which is still the royal residence but there is much to explore here. There are the famous peacock gates, the large silver pots that the Maharaja transported to England to ensure he was drinking pure water from the Ganges, the beautiful Wedgewood blue walls of the Sukh Niwas (Hall of rest) and a wonderful museum where you can see artisans at work.  We will drive past the famous Hawa Mahal and  visit the markets for some more shopping.
Day 7 – October 13, 2019,  Sunday
After breakfast in our hotel, we will travel to a village of the Chippa community for a workshop on an 8th century art – mud-resist block printing. The patterns are mostly from nature, embedded in the cultural identities of the artisans. We will do a full day block printing workshop and create our own masterpieces.  After dinner at a local restaurant, we will return to our hotel for a rest, satisfied that we have completed our first workshop and learnt a new skill!
Day 8 – October 14, 2019, Monday
We say goodbye to Rajasthan and board a domestic flight to Ahmedabad, which is in the commercial capital of the western state of Gujarat.  We will transfer to our air-conditioned vehicle to travel in comfort to our hotel, to check in and freshen up. After lunch we will visit the the Sabarmati Ashram, established by Mahatma Gandhi, who laid great emphasis on the handloom industry and take in the peace and tranquility of this place. We will visit the colourful markets in the evening and after dinner we will return to our hotel for a well earned rest.
Day 9 – October 15,  2019, Tuesday
After a delicious buffet breakfast, we will head to the the famous Calico Museum of textiles. This museum houses a vast collection of court textiles from the 15th to 19th centuries and many exquisite hand embroidered textiles and regional textiles from the 19th century. Set in temperature and light controlled galleries, the museum is dedicated to preserving these textiles for future generations. There is also a lot of other art from many regions across India housed in other galleries within the museum.
In the afternoon, we will attend a working demo of Mata Ni Pachedi, the Kalamkari art of Gujarat.  Following that we will visit the famous textile markets of Ahmedabad for lots of shopping of beautiful cloth and embellishments. Enjoy a traditional Gujarati dinner and then return to our hotel.
Day 10 – October 16, 2019, Wednesday
This morning after our breakfast, we check out of our hotel and head further west towards the Gulf of Kutch and the main city of Bhuj. This is a 5-hour drive so along the way you are guaranteed to see many  villagers in their colourful garments, the women in beautifully embroidered skirts and blouses with chunky silver jewelry.  We will check in to our hotel,  and then rest before  an evening in the local markets and dinner.
Day 11 – October 17, 2019, Thursday
 Today we will spend the forenoon in an Ajrakh block printing workshop.  Ajrakh is the name of a block printed with deep crimson red and indigo  bearing symmetrical patterns interspersed with white unprinted motifs. An ancient craft, the history of Ajrakh can be traced back to the Indus Valley civilisation that existed around 2500-1500 BC. In the afternoon, we will visit the LLDC museum that showcases desert embroidery – what a massive range of stitches and styles, jaw-dropping indeed. Overnight in Bhuj.

 
Day 12 – October 18, Friday
Today we will have a full day workshop on Rabari quilting.  The Rabari women will share their art and talk about their lifestyle with you. Once we make our own masterpieces, we can visit the local bazaar for some more shopping if time permits.  We will return to our hotel to pack for our final stop in India.
 Day 13 – October 19, 2019, Saturday
This morning, we will checkout of our hotel early and head to Bhuj airport for a domestic flight to Mumbai.  After checking into our hotel and freshening up, we will have lunch and then head to Mangaldas markets which are famous for their textiles, sarees and a whole host of items.  In the evening we will visit Chowpatty Beach and check out the famous Marine Drive which is also called the Queen's necklace as all the lights appear like a string of pearls at night.  After dinner, we will return to our hotel for a good night's sleep.
Day 14 – October 20,2019, Sunday
Our final breakfast this morning at our hotel then we will pack and checkout of our hotel. Today we will have a coach tour of Mumbai, visiting the famous landmarks, the Gateway of India, the famous Taj Mahal Hotel, the central railway station with its wonderful Gothic architecture, Crawford market, the Hanging Gardens on Malabar hill. Finally we will make our way to the fabulous international Mumbai Airport for our return flight to Sydney. Return home wit a mind load of artistic ideas, your luggage full of Indian fabric and special memories of your fantastic Indian adventure
Day 15 – October 21, 2019 Monday
Arrive in Sydney